Once Upon a Mansion: ASI's 73rd Holiday Experience
Date/Time:
Wednesday, January 3, 2024
10:00 am – 4:00 pm
Offer:
General Admission for 2 people — This pass provides two people with admission to view "Once Upon a Mansion" as well as the historic Turnblad Mansion.
Event Details:
Once Upon a Mansion: ASI?s 73rd Holiday Experience

What festive tales did the Turnblad Family read while cozied up in the Library? What would happen if the creatures carved in the Mansion woodwork wanted to come out and play?
Step into the story at the American Swedish Institute?s most enchanting holiday experience ever that brings the magic of winter, traditions, myths, and tales to life for visitors of all ages. Explore the festive rooms of the Turnblad Mansion and immerse yourself in experiences co-created by local community contributors representing Sweden, Norway, Denmark, Iceland, Finland, and the Sami Cultural Center. Whether it?s your first ASI Holiday Experience, or your 73rd, this is one you won?t want to miss.
One of Minnesota?s top winter traditions, ASI?s Nordic-inspired holiday experience brings communities and people of all ages together to celebrate the season. From November to January, the museum and cultural center partners with local organizations designers, artists, makers, and performers, to produce an immersive holiday experience within the historic Turnblad Mansion?Minnesota?s only castle?and to present an array of top holiday events, holiday handcraft, food, language classes, and more. ASI?s museum store expands to feature the Jul Shop, one of Minnesota?s best holiday gift stores, and FIKA Café?s menu grows to include seasonal inspired holiday food and drinks with a New Nordic twist.
Among the many artists in this years? experience, local artist Tia Keobounpheng will install an impressive Himmeli in the Turnblad Mansion Artists? Studio, and artist Anita Jain will transform one of the Mansion?s original bedrooms into an immersive, mossy landscape straight out of a Finnish fairytale. The exhibition also includes unique objects provided by the Vesterheim Norwegian-American Museum in Decorah, Iowa.
Bits of wonder and surprise will be found throughout the experience including weird and wild curiosities from 12 Vultures in Northeast Minneapolis, and of intrigue and inspiration perfect for your Instagram feed from Studio Moss.
Find the perfect holiday gifts from local artisans at Julmarknad, one of the region?s largest handcraft markets, featuring more than 50 regional handcraft vendors, live music, festival foods, hands-on activities for all ages, and more. Let out your pagan side and celebrate the longest night of the year around warm outdoor fires (and maybe pet a reindeer!) at the Twin Cities? largest Winter Solstice Celebration. Dare your friends to try lutfisk for the first time at a Lutfisk Dinner. Find out why Lucia wears a crown of candles at the Lucia Celebration Concert.
Explore ASI?s season of workshops on holiday crafts, cooking classes, food demos, language classes, and more. Pick up a skill, learn something new, or even inspiration or holiday gift idea! See what?s on.
The ASI Museum Store?s Jul Shop is open November 9?January 4, with a curated selection of handmade and imported items. Shop in person or shop online to find the perfect holiday gift for everyone on your list.
Don?t miss the holiday menu at FIKA Café, voted one of the best restaurants by MSP Magazine, where you?re sure to find the seasonal flavors of cinnamon and saffron alongside some of the best meatballs and gravlax around.   
Location:
American Swedish Institute
2600 Park Avenue
Minneapolis, MN 55407
Hours of Operation:
Museum (Turnblad Mansion & Osher Gallery) and Museum Store:
Monday and Tuesday: Closed
Wednesday: 10 am - 4 pm
Thursday: 10 am - 8 pm
Friday, Saturday, and Sunday: 10 am - 4 pm

FIKA Café:
Monday and Tuesday: Closed
Wednesday: 10 am - 3 pm
Thursday: 10 am - 8 pm
Friday, Saturday, and Sunday: 10 am - 4 pm
Lunch Service: 11 am - 3 pm
Counter Service: 10 am - 4 pm, The Counter will offer the beverage menu during non-serving hours.

The Museum, Cafe, and Store are closed New Years Day, 4th of July, Easter, Thanksgiving, Christmas Eve, Christmas Day, and December 26.
Parking Information:
Free parking is available in our surface parking lot, located at 27th Street and Park Avenue. Accessible parking is available on the northeast side of the parking lot. Free street parking is readily available on Park Avenue, Portland Avenue and 27th Street.
Accessibility Information:
ASI offers accessible parking, restrooms, listening amplification, and elevator service. Manual wheelchairs are available on request. Sign language interpreters can be arranged with notice and certified service animals are welcome. For more information, call 612-871-4907.
Organization Details: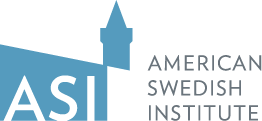 Nearly 90 years ago, a new immigrant to Minnesota had a vision to create a vibrant cultural gathering place. Established in 1929, ASI has evolved into a dynamic arts and cultural center that welcomes all people to gather and share experiences around themes of culture, migration, the environment, and the arts; informed by enduring links to Sweden. From the gallery spaces, featuring local and international exhibitions, to the lively programming set in the historic Turnblad Mansion, to the shop, and award winning restaurant and café – there are many ways to see yourself at ASI and be part of this story.
---
Reserve a Pass
Offer: General Admission for 2 people — This pass provides two people with admission to view "Once Upon a Mansion" as well as the historic Turnblad Mansion.
Date/Time: Wednesday, January 3, 2024 10:00 am
You must be logged in to reserve a pass.