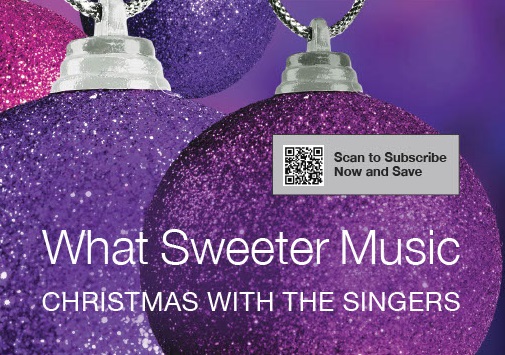 The Singers present What Sweeter Music
Date/Time:
Saturday, December 4, 2021
7:30 pm – 9:30 pm
Offer:
Free Admission — Two general admission tickets
Event Details:
Herbert Howells | Long, Long Ago Rosephanye Powell | Non nobis Domine Christopher Harris | Alleluia for this Day Matthew Culloton | Stopping by Woods on a Snowy Evening   Other works by Abbie Betinis, Cecilia McDowall, John Rutter, and more!
From the haunting harmonies of Herbert Howells, to festive and familiar Christmas carols, The Singers again welcome the holiday season through song! Enjoy a wide range of poetic texts by William Shakespeare and Robert Frost, and inspiring melodies from the minds of composers around the world ? sweet music, indeed!
Please note:  See our COVID Policy at https://www.singersmca.org/safety
Location:
Annunciation Catholic Church
509 W. 54th St.
Minneapolis, MN 55104
Accessibility Information:
Please contact Annunciation Catholic Church directly for more information.
Organization Details:

Founded in 2004, The Singers organization is dedicated to giving world-class performances of the finest choral literature. The Singers, a professional choir of 40 members, exists to serve as artists, educators, and advocates of the choral art. Recognized nationally for their innovative programming, commitment to new music, and peerless artistic quality,
---
Reserve a Pass
Offer: Free Admission — Two general admission tickets
Date/Time: Saturday, December 4, 2021 7:30 pm
You must be logged in to reserve a pass.