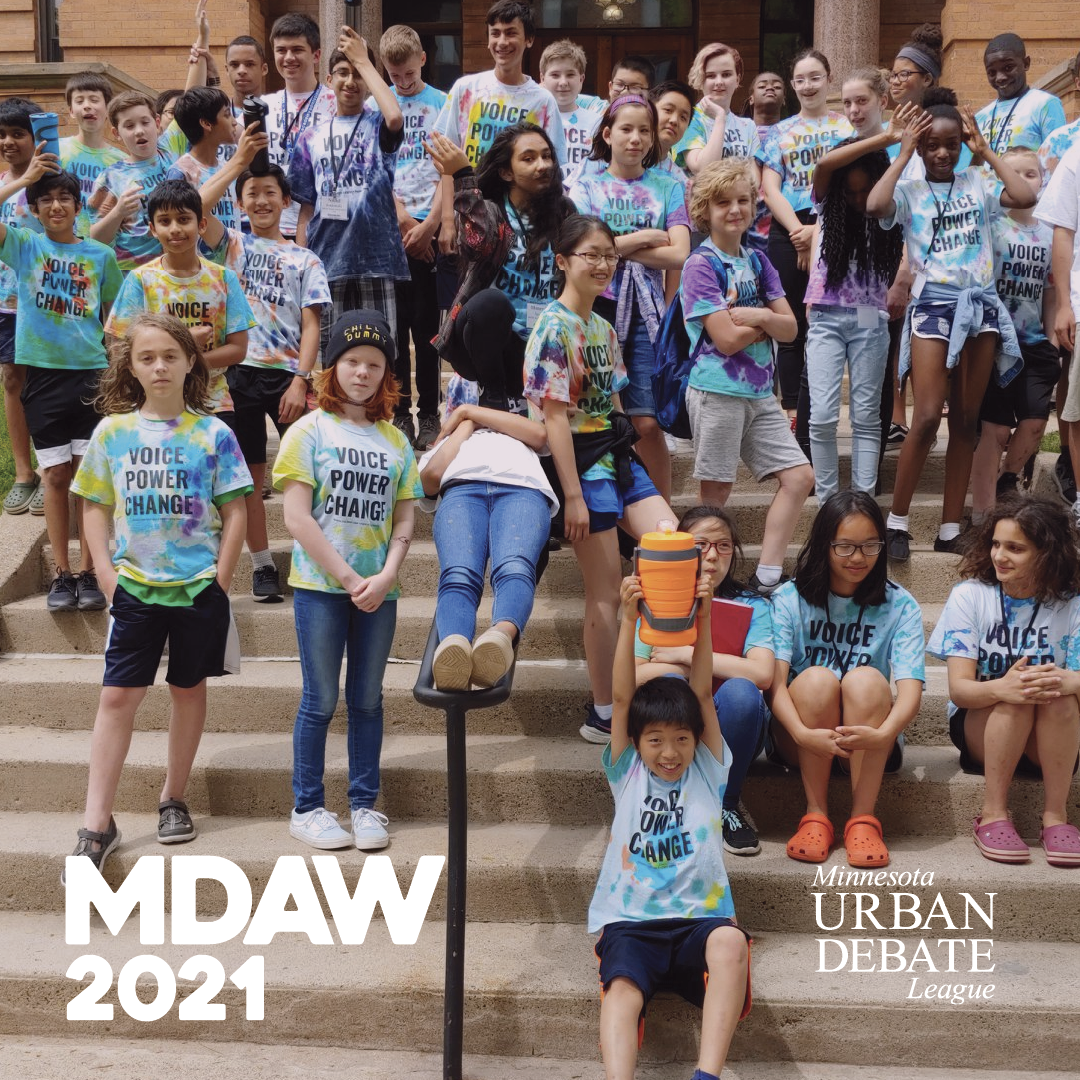 MDAW Virtual Summer Speech & Debate Camp - HS Student Congress Camp
Dates:
Monday, June 21, 2021 – Friday, June 25, 2021
Offer:
Register for HS Congress Camp — Get 10% off when you book your registration with smARTpass!
Event Details:
VIRTUAL HIGH SCHOOL CONGRESSIONAL DEBATE CAMP
Monday June 21, 2021 through Friday June 25, 2021
MDAW is a collaborative effort between The Minnesota Urban Debate League (a program of Augsburg University) and The University of Minnesota Debate Team. Our goal is to increase access to speech & debate for schools, coaches, and students entering 5th through 12th grade providing a high quality, virtual summer camp experience to students in the Twin Cities Metro, the Upper Midwest region, and across the US!
MDAW's Congressional Debate Camp is designed to help congressional debate students gain competitive success at the local and national level. Students will grow as leaders while they learn strategies and techniques to help them develop the hard skills of congressional debate (research, writing, delivery, and round strategy). Students also learn the soft skills of congressional debate (being empathic listeners, promoting dockets, gaining consensus among peers, and learning to read judges).
Debaters will also learn advanced research techniques as well as how to craft legislation that debaters will vote onto the docket. Campers will work directly with Ross Eichele of Eagan High School, who has coached state champions; as well as finalists at NSDA nationals, Harvard, Glenbrooks, Berkely, MinneApple, and the Blake tournament. He is accredited by the National Speech and Debate Association as an Advanced Professional Speech and Debate Educator and Coach, and is also a Nationally Board Certified Teacher.
Scholarships and discounts are available. 
Important links
Register via Active Network: https://campscui.active.com/orgs/MinnesotaUrbanDebateLeague
Check out our 5-minute camp preview from 2020: https://www.youtube.com/watch?v=w0xyC-IytkM
In addition to our MDAW Scholarship Application, we also have a partnership with the Minnesota Afterschool Advance program, which helps eligible families make use of a state-wide K-12 education tax credit for summer camp. Families can check eligibility here: www.mnafterschool.org/apply
For those needing scholarship help, please complete check out and registration on our new platform as you normally would using the For Financial Aid Applicants Only pricing option. After you register/check out, you will see the scholarship application in the confirmation email as an attached form. Please let us know if you have any questions.
Location:
https://www.augsburg.edu/urbandebateleague/mdaw/
---
Reserve a Pass
Offer: Register for HS Congress Camp — Get 10% off when you book your registration with smARTpass!
Dates: Monday, June 21, 2021 – Friday, June 25, 2021
You must be logged in to reserve a pass.