Minnesota Family Fringe
Date/Time:
Friday, July 26, 2019 - Sunday, July 28, 2019
All Day
Offer:

Event Details:
Family Fringe offers children and families interested in new and adventurous work the ability to see shows presented by companies creating multi-generational productions. Family Fringe is a separate, juried festival taking place over two weekends in tandem with the Minnesota Fringe Festival.
Family Fringe artists are selected by a jury comprised of artists, producers, board, and staff using a rubric based on artistic vision, production feasibility, style and aesthetic, and inclusion. Participants earn a majority portion of ticket sales and pay a small producer fee to offset Fringe's up front cost of venue rental, workshops, publicity, professional technicians, house managers, and other staff.
The 2019 lineup includes…
Storyland Magic Carpet presents "Super Drag Story Time": Camp, color, puppetry, music and dance collide in this glamorous storytelling event featuring local drag queens and kings. Bringing drag, circus and a passion for children's entertainment together in a truly unique, heartwarming storytime event, kinds will learn that people who are different aren't scary, and that the things that make us different are the things that make us awesome! Featuring Martina Marracino and a slate of the Twin Cities' fiercest drag performers.
NYC's Broken Box Mime Theatre presents "Destination: Everywhere": A jungle expedition gone awry. Spooky sleepover tales come to life. A superhero on date night… All told without a single word! BKBX's modern mimes artfully weave together original short plays with boisterous interactive games, celebrating the power of simple storytelling. BKBX is winner of 3 NYC Innovative Theater Awards, and have performed nationally and in the UK, France, Ethiopia, Switzerland, and Taiwan.
Keane Sense of Rhythm with Universal Dance Destiny present "Minneapolis Human Rhythm Project": a multigenerational, diverse showcase of the rhythm that binds and brings us all together. Celebrate beautiful dance from many cultures from around the world. Keane Sense of Rhythm celebrates 20 years in the Twin Cities community training tap dancers of all levels and ambition, and have performed in Poland, China, Canada and Ireland.
Benjamin Domask presents "Hodge Podge": Bubble gum balls & bubble machines. Umbrellas & tin cans. This "Hodge Podge" is a contemporary circus and physical theatre piece bringing audiences together to explore memory and media. An interactive oasis for the mind, body, and soul. Domask is a clown, juggler, mime and musician who has performed nationally and internationally, based here in Minnesota.
Off-Leash Area presents "Paws 'n Effect": A little girl in a big city runs away from home. Suddenly, a magical dog floats down from the sky on a balloon. Together, they embark on an urban journey where she learns acceptance of others, and herself. Featuring 2 dancers, a real-life dog performer, and live music and digital animations. Off-Leash Area is one of the Twin Cities most well-regarded interdisciplinary performance companies.
Teen improv from the Brave New Workshop Student Union: an in-depth improvised performance by some of the Twin Cities most talented, up-and-coming young comic performers. Brave New Workshop is a nationally-renowned, locally-based sketch and improv comedy theater based in downtown Minneapolis, founded in 1958.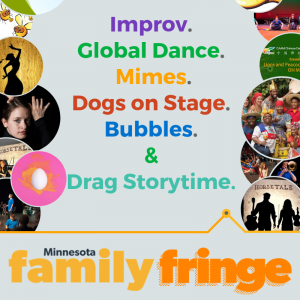 Location:
Barbara Barker Center for Dance
500 21st Avenue South
Minneapolis, MN 55455
Parking Information:
There is a pay parking lot directly across the street.
There is also a paid covered parking ramp at the end of the block on 21st Ave.
Metered street parking is also available on 21st Avenue and on Riverside Avenue.
Accessibility Information:
The building is ADA accessible through the entrance on 21st Ave.
Organization Details:
Minnesota Fringe connects adventurous artists with adventurous audiences by creating open, supportive forums for free and diverse artistic expression. Through our summer festivals and dynamic year-round programming, Minnesota Fringe is an artistic disruptor for local and national artists — to take bold risks, develop new ideas, and hoist themselves to the next rung of their artistic ladder. As the producer of the largest performing arts festival in the Midwest, our annual Minnesota Fringe Festival event fills 40,000 seats with audiences viewing dozens of works at hundreds of performances by more than 1,000 artists on a variety of stages in late summer. We also create the Minnesota Family Fringe featuring productions for kids and families interested in new, adventurous work.
Reserve a Pass
Offer:
Date: Friday, July 26, 2019 - Sunday, July 28, 2019
You must be logged in to reserve an offer.