GTCYS Symphony: Transformations
Date/Time:
Friday, December 15, 2017
7:30 pm - 9:00 pm
Offer:

Event Details:
GTCYS Symphony's series opener explores the emotionally transformative power of music, featuring movements from Dvořák's celebratory Symphony No. 8, selections from Bernstein's boisterous On the Town, and Barber's poignant Adagio for Strings. The program also includes a special performance by the Symphony Percussion Ensemble.
Location:
Ted Mann Concert Hall
2128 Fourth Street South
Minneapolis, MN 55455
Parking Information:
Convenient parking is available at the University's 19th Avenue and 21st Avenue parking ramps; you must pay a fee to park in these ramps.
Organization Details: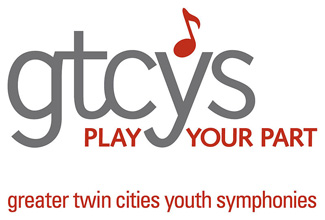 GTCYS broadens access to orchestral music and reaches more than 16,000 children and adults through our core educational programs, free outreach activities and workshops, concerts, and special performances. Our programs provide an exceptional youth orchestra experience for young musicians of all ages and abilities, aiding in their development as young artists and adults.
Reserve a Pass
Offer:
Date: Friday, December 15, 2017
You must be logged in to reserve an offer.